Improve the view with Stainless Steel Handrails and Glass Balustrades - Ceredigion
Thursday, 22 November 2018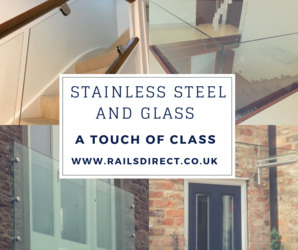 Contacts

Rails Direct

01570 218060
Item description
Rails Direct | Get your Tailor Made Handrails at httpswww.railsdirect.co.uk

Stainless steel handrails and glass balustrades to make the most of any vista with Rails Direct.

Contact us now on 01570 218060 and get a great from our team.

Why use Rails Direct ?

We are manufacturers of stainless steel and wooden handrails and we work in an industrial unit, we have staff, machines, a packing area, and an admin area. But that is where our similarity with other manufacturers ends. Rails Direct has been born out of a desire to be different, and we intend to be exactly that, in everything we do. From the design of our products through to the opportunities we give our staff, innovation is what motivates us to stand out from the crowd.

We want our customers to tell us what they want us to create, colours, shapes, textures, ideas, we are willing to try anything in order to provide something that is stylish, affordable and fit for purpose, from a stained oak grab rail to a leopard print handrail, whatever ideas you have we would love to hear them.

Our approach outside of production is very similar and we intend to offer our employees opportunities, support and coaching that gives us a reputation for being one of the best employers around, and makes our working environment and culture one that everyone enjoys being in. We wouldn't devote ourselves to something we don't enjoy, and we don't expect our team to either.

Based in a tiny town in the very heart of beautiful Wales we are also proud of our community roots and the huge potential that Lampeter has to offer, we will be working with other local businesses to support our town and to encourage its growth and sustainability by using local suppliers where we can and by offering employment opportunities to local people.